Professor Andrew J. Millar FRS FRSE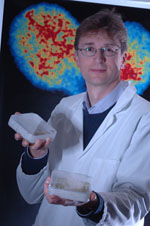 European School of Luxembourg - European Baccalaureate.

University of Cambridge, Gonville and Caius College,1985-1988 - BA Hons (I) in Genetics; University prizes for Botany, 1987, for Genetics, 1988.

The Rockefeller University, New York, 1988-1994 - Ph.D in Plant Molecular Genetics, Prof. Nam-Hai Chua FRS.

University of Virginia, NSF Centre for Biological Timing, 1994-1995 - LSRF post-doc' Fellowship, Prof. Gene D. Block.

University of Warwick, Dept. of Biological Sciences, 1996-2004 - lecturer, reader, professor.

University of Edinburgh, School of Biological Sciences, 2004 - present - Professor of Systems Biology.

BBSRC Research Development Fellow (2002-2007).

Programme Manager (2003-2004) of the Interdisciplinary Programme for Cellular Regulation, with Dr. Nigel Burroughs (Maths).

Founding Director of the Centre for Systems Biology at Edinburgh (CSBE) 2007-2011, which is part of SynthSys since Jan 2012. Associate Director of SynthSys.

Elected EMBO member 2011; Fellow of the Royal Society 2012; Fellow of the Royal Society of Edinburgh 2013.