A Minimal Biological Clock
A new collaboration for 2007 links four leading laboratories in France, England and Scotland, to study the biological clock of the tiny alga, Ostreococcus tauri.
Ostreococcus is a marine micro-alga that lives amongst the plankton. It is a eukaryotic organism, so each cell has a nucleus. Over evolutionary time it has been reduced to the minute size of a bacterium, with a very simple structure: one chloroplast, one mitochondrion, and the nucleus.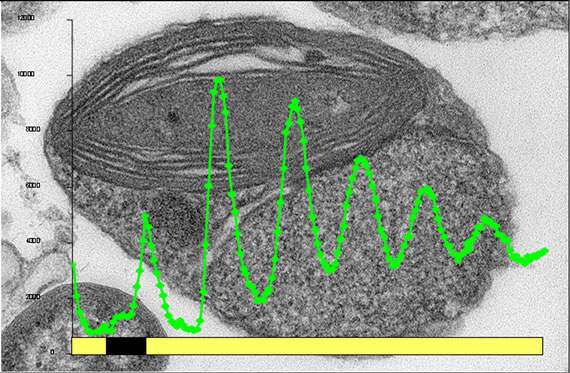 EM Picture: Courtesy of M-L Escande & C. Courties; montage courtesy of F-Y Bouget.
This smallest of free-living eukaryotes has a genome one-tenth the size of the model higher plant Arabidopsis thaliana, but still retains one-third of Arabidopsis' gene number. Ostreococcus shares the genes that form the 24-hour biological clock with Arabidopsis, where the clockwork has been most studied. Most importantly for this project, the algal clock appears to use the same biochemistry but in a greatly simplified form. This simplicity provides a key advantage when tackled with the new approaches of Systems Biology - combining lab experiments with statistics, mathematical analysis, and computer modelling.
The collaboration includes the groups of :
| | |
| --- | --- |
| | Dr. Francois-Yves Bouget (coordinator, French lead), Laboratoire Arago, Banyuls-sur-mer. |
| | Prof. Andrew Millar (UK lead), Centre for Systems Biology at Edinburgh. |
| | Dr. Marc Lefranc, PhLAM, Université de Lille. |
| | Prof. Jim Smith, Department of Statistics, University of Warwick. |
The project is supported by infrastructure and resources of the Centre for Systems Biology at Edinburgh and of Génopole Ouest, Rennes. Our thanks to

and

.
We are grateful for funding from the joint Systems Biology Initiative of the ANR and BBSRC.